THE 16TH ANNUAL
LUKE MULLER GOLF OUTING
Saturday, October 1st , 2022 • Kenton County Golf Courses
.
MISSION:
Supporting local families in need by bringing together friends, family and other community members for a day long celebration of love, hope and healing.
2022 LMGO Beneficiaries
All proceeds from The 16th Annual Luke Muller Golf Outing and After Party will benefit Elizabeth, Johnny & Nicole.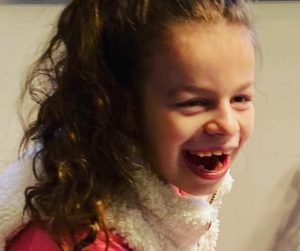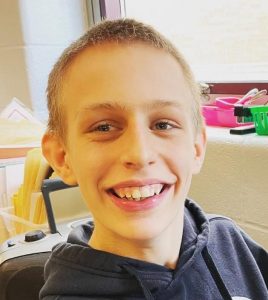 Elizabeth & Johnny Brass
Adam and Mary Claire Brass have three children. Jacob, 20, is a sophomore at Georgetown College, John, 18, and Elizabeth, 16, attend Highlands High School and Middle School. They are a little bit different than your typical family in that John has severe nonverbal autism and Elizabeth has a chromosome abnormality that severely limits her cognitive ability, gross and fine motor skills. They are extremely loving happy children that just happen to require 24/7 care by parents and caregivers. John loves to watch his brother and cousins play football and basketball. He loves his therapists, teachers, and caregivers with all of his heart and like his mother, he adores shopping at Target and could eat pizza for every meal. Elizabeth's epilepsy has recently limited her outdoor activities, but she loves school, her teachers and caregivers and she is a daddy's girl through and through. She loves puzzles, you tube videos of nursery rhymes and music. Adam and Mary Claire do not know what the future holds for long term care and the health challenges that John and Elizabeth will face, but are eternally grateful to their community and Fort Thomas schools for all of the support and love throughout the years. They feel honored and humbled to be chosen as recipients of the LMGO.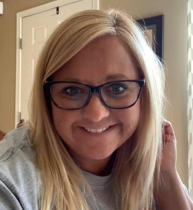 Nicole "Mother" Tucker
Nicole (Mother Tucker) is a wife, a mother of three, teacher and well-known community member. She was diagnosed in March of 2021 with Stage Four Colon Cancer. She was just really tired and then…cancer…stage four. Her family, friends and community have rallied, showing just how much she means to so many. Nicole has been a teacher at Campbell County HS and has been teaching at Dixie Heights for the last 15 years. She has been involved with the NKY Swim League and NKY Clippers for nearly 15 years, soccer, football…You name the sport, I am sure you have seen Mother Tucker on the sidelines .Nothing is more important to Nicole than her family…her kids, her students, her community… and Lake Cumberland. During the Summer you will find her there. She calls it her happy place and swears the Lake Cumberland waters have healing power. Nicole is a fighter and despite a stage four diagnosis has continued to fight and will continue to fight for her health, more time, her family and her students. She really is a mother to all…our Mother Tucker.
16th Annual Golf Outing
Saturday, October 1st, 2022
Kenton County Golf Courses
3908 Richardson Road
Independence, KY 41051
8:30 AM Registration
10:00 AM Shotgun Start
Lunch provided prior to tee off
$100 per Person for Golf, Lunch, & Games
Details and Sponsorship Opportunities:
Ace Sponsor
Eagle Sponsor
Birdie Sponsor
Caddy Sponsor
Hole Sponsor
Can't golf? No Worries!
There is an After Party!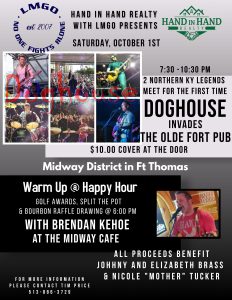 There are several ways in which you or your company can help us: